Back to the past in 1950s with my research.
I have a lot of research!
I love research, one of areas I was really good at school was history, I like to pay attention to the small details and can be a pain when comes to getting it right, nothing ruins a good book or movie when the small details are off.

I did decide that I wanted to aim my Illustration more Britain than USA in the 1950, but that's not to say that there won't be a little cross over! So not so much ROCK and ROLL or grease vibe! One of the first things I did was planning, via spider diagrams, quick notes where to find information.
I was lucky this exercise as was in perfect timing with a visit to my fathers place, why is that lucky?

My father was a very young boy in the 1950s and he is a collector, his era is indeed 1950s, with a huge collection of 1950s books also blessed by an actual 50s clock (which I will use in the design in some way) and framed poster from Butlins of the time. Also endless books for source of inspiration, I was pretty much overloaded with items to reference / create the mood and vibe.
Plus also some photos from my mother in laws parents in their living room and their own account of the decor at the time.
One keen area's of my research was the mainly the 1950s living room.

While watching some 1950s movies on youtube I came across this little gem which proved very useful when I wanted to the same exercise as "turning word into images" for the 1950s living room.
I watched some 1950s movies such as Upstairs and Downstairs and paid close attention to the decor and fashion.
Another show I started to watch again is Darling bud of may one of my own childhood shows I loved completely.

I also started to watch on Netflix the midwifes, this was set in the era and was one of the main things I thought of when read the brief for this exercise.
However I did want to pay more attention to the actual 50s sources for research.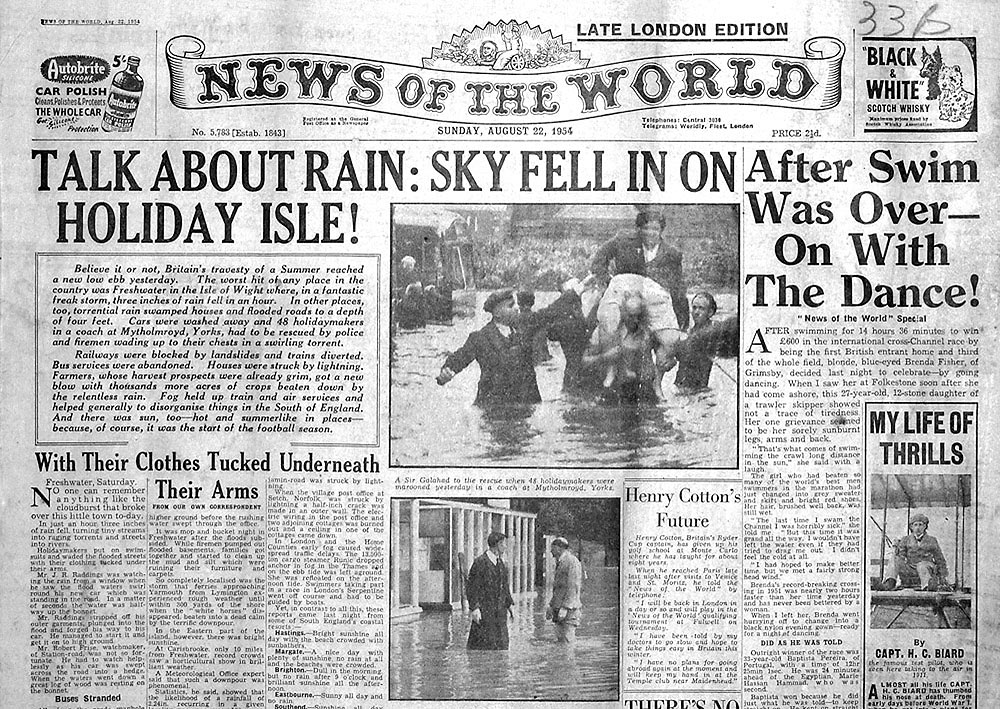 What I was most excited to find was the John Bull Magazine,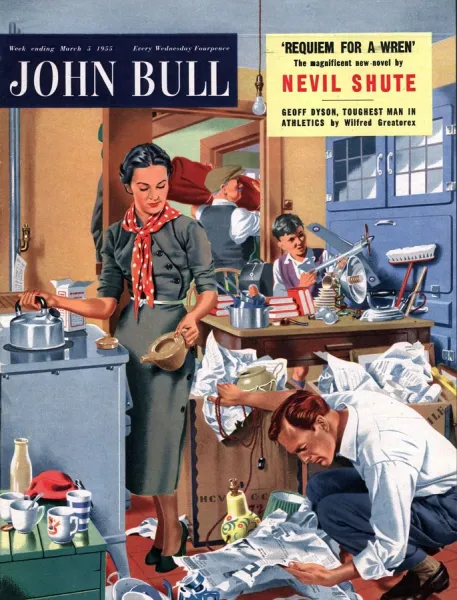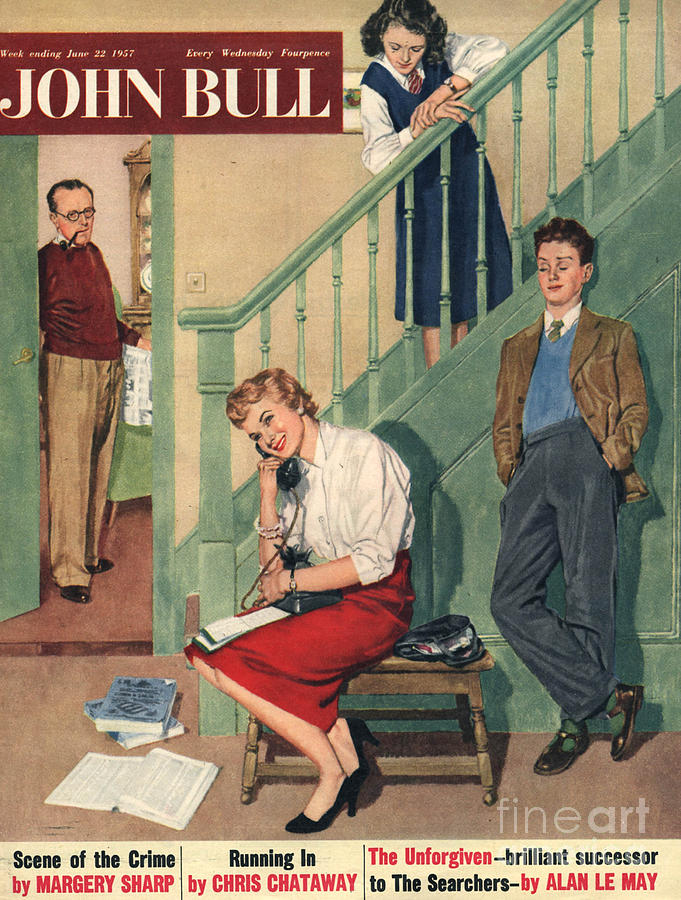 Not only was the magazine art perfect for the vibe I was looking for, most of the illustrations shows me something from 1950s and fact created in the era allows me to truly have a feel for everyday life though the covers.

Plus so many illustrated covers in the 1950s https://www.pinterest.co.uk/bobwale/john-bull-magazine-art/ . I do have to be careful as inspired as I am from John Bull I take care not to be too influenced by one source and keep it as inspiration only not a complete reference to the era.
Research, references, notes and thanks

Special thanks to Derek Simpson and Lesley Catt for providing first hand resources and accounts of the 1950s

Web links

History
https://www.historytoday.com/archive/britain-1950

Decor
http://www.bbc.co.uk/homes/design/period_1950s.shtml
https://www.essentialhome.eu/inspirations/interiors-decor/living-room/recreate-best-1950s-living-room/
https://www.telegraph.co.uk/lifestyle/interiors/11496553/Living-in-a-1950s-time-warp.html


Fashion & textiles
https://www.fashionbeans.com/article/1950s-fashion-guide-men/
https://www.vam.ac.uk/articles/post-war-textiles
https://vintagedancer.com/1950s/1950s-fabrics-colors-in-fashion/

Childhood
https://www.historic-uk.com/CultureUK/Schooldays-in-the-1950s-1960s/
https://www.express.co.uk/expressyourself/130079/The-joy-of-a-1950s-childhood

Illustration and art
https://www.advertisingarchives.co.uk/?service=category&action=show_content_page&language=en&category=8&pid=54
https://www.tate.org.uk/visit/tate-britain/display/walk-through-british-art/1950
https://www.pinterest.co.uk/mrspollyrogers/50-s-illustration/

https://en.wikipedia.org/wiki/John_Bull_(magazine)

Books for research
I can remember the 1950s – Frankin WATTS
Fashion since 1900s – John Peacock (Thames & Hudson)
greeting from RETRO DESIGN – Tony Seddon (Thames & Hudson)